I've had a copy of Byrd Baylor's If You are a Hunter of Fossils in my teacher tote bag for months, waiting for me to write CAFE lessons for it. It was originally a text included in kindergarten Kinderroots kits, but when we switched from Success for All, the books were introduced to general teacher circulation.
I put off posting lessons because I worried the book would be outdated, thus opening a huge can of worms in determining whose role it is to decide whether books are outdated. (It's our librarian's role, I'd argue. But we have a half-time librarian who is spending every second he's in our school making up for the FOUR YEARS when we didn't have a librarian at all. I don't think weeding books are at the top of his list. He and our library assistant have added ELEVEN HUNDRED books to our school library this year.)
Despite my initial apprehension, I finally read the book and gave a few lesson suggestions. Hunter of Fossils has held up well to all the recent dinosaur discoveries and changes. But other books don't hold up as well. And as a school with a teensy tiny library budget, at what point do we retire old books?
[blackbirdpie url="https://twitter.com/#!/MsHoughton/status/153660132386017283″]
There are a bunch of other old books that are in the bookroom. I'm not too concerned about these texts, as they're intended for teacher check-out, and I assume teachers know how to lead a rad anti-bias, these-were-the-times lesson.
[blackbirdpie url="https://twitter.com/#!/donalynbooks/status/153657606077022208″]
Again, what is the line for "accurate," though? For example, our school's Ben Franklin biography is Jean Fritz's 1975 book What's the Big Idea, Ben Franklin? A large bulk of the information is pretty accurate, to my mind, but there are some pieces that have been disproven. We included the updated information in our class discussion. There's an updated version of this book with illustrations by David Small, but I haven't read it and don't know if there are any changes.
But what about the books on the shelf available for general consumption? I'm not by any means looking to somehow censor outdated information, but I wonder how we can set students up for success in accessing accurate information.
[blackbirdpie url="https://twitter.com/#!/cppotter/status/153660546456104961″]
As mentioned above, we are fortunate to have a 22-computer lab (Although it is tiny. And many of our classes have 25 students. And we use it to take state standardized tests in.), which many classes use to research information.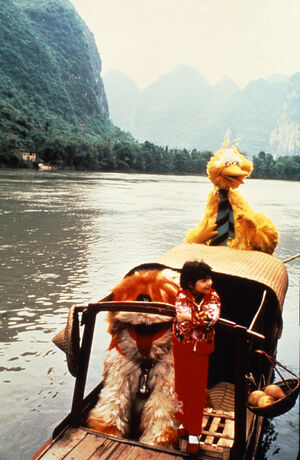 But access to information isn't a cure-all. The nightmare scenario for my kids comes from my own cultural shock in China. I read at least a half dozen books on the country and the culture, but the most lasting impression I had was from Big Bird in China. I LOVED this movie when I was little. ADORED this movie. And as an adult, I knew that some things would be VERY different on my visit, but even the more recent texts I read didn't prepare me for the changes I saw.
I thought people would be wearing neutral-colored Mao suits. I thought cities would be more run down. In retrospect, I guess there's always more research I could have done, but I wonder what would have helped me sift out the most recent, relevant information, especially considering I went into the program knowing NOTHING about China. Except pandas and Mao.
Anyway. So I guess I'm still left with my initial question. At what point are old nonfiction books worse than no books at all? I'll pester some librarians this week, and please leave any thoughts or ideas in the comments!