Yesterday marked the first (half) day of the NCTM conference. I am SO very glad I took the extra day to fly in.
I can't say enough good things about the Belmont Hotel folks. The shuttle service was low-drama and speedy, and everything I've inquired about has been answered kindly and efficiently. My greatest discovery was locating the blow dryer. Yessss.
Most of Wednesday was spent sleeping and doing final tweaks on my presentation. I ate delicious food at SMOKE, the restaurant connected to the Belmont (hangar steak salad, BBQ beans). I slept some more, then I headed down to the convention center.
The opening keynote was Scott Flansburg, the Human Calculator, a dropout savant who spent most of his hour-and-a-half presentation name-dropping all the TV shows he'd been featured on and all the famous people he met. The presentation was pretty mediocre, and I was forced to depart early due to excessive cologne application by my neighbor (who was three seats away). I found myself longing for a return visit from the brilliant and charming Jane McGonigal, who was our opening speaker at the Title I conference.
Trundled back home, ate dinner at SMOKE (mac and cheese), read books, watched Sherlock, slept poorly. The only thing that kept me from freaking out about my lack of sleep was marathon guru Hal Higdon's advice. He says that you probably will get an awful night's sleep before the race (or presentation), so it's actually more important that the two nights leading up to the night before the race are solid. Seeing as how I slept through most of Tuesday and Wednesday, each time I woke up, instead of panicking, I was able to tell myself, "Aren't you glad you slept so much before?"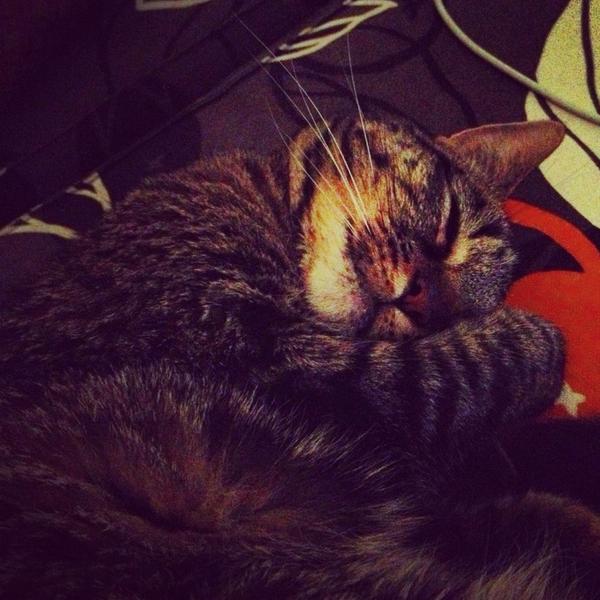 Have I publicly mentioned how much I adore Skype? Because I adore Skype. In addition to the tremendous potential it has in my classroom, it's also really freaking amazing to be able to see my sweet husband's face before going to sleep when I'm away feeling insecure. Also, I got to see my kitty cat. Who is admittedly cuter than my husband. And equally furry, given the current unshorn state of Toby's beard.