Every Monday, I highlight a book from our school bookroom along with lesson plan suggestions. I hope you find this useful, and please leave a comment with any suggestions or additions!
Mathematickles!, by Betsy Franco
I feel like I've already written a post about this book, but I can't seem to find a draft anywhere, so I'll start again.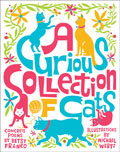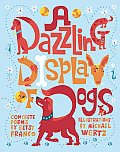 Poet Betsy Franco has recently received attention for her duo of domesticated animal books. A Curious Collection of Cats received some Caldecott buzz after it was published, and of course you know I'm cat biased, but I didn't think A Dazzling Display of Dogs was quite as good as a followup.
Anyway, back to Mathematickles. As usual, there are plenty of great math lessons available that tie into this book. For example, you should definitely do this lesson. It has the added benefit of relating math to the seasons, and I plan to use this book to reinforce inverse operations for multiplication/division and solving for a missing addend.
There is a CAFE menu included with this mentor text, and I've highlighted these as suggested lessons:
Comprehension
Recognize literary elements (figurative language). The book's equations sometimes work due to literal language (like 1/2w = v = flying geese) and sometimes due to figurative language (such as raindrops x leaves = pearls on green plates). Due to the limited text in the book, it'd be pretty easy to copy several (dare I say all?) the poems an have students sort for the two elements.
Expand Vocabulary
Use dictionaries, thesauruses and glossaries as tools. If some of the math terms or symbols are unfamiliar, students can use the glossaries in the back of their math textbooks. There are plenty of terms also available at the online dictionary MathWords.
Behaviors that Support Reading
Read the whole time. As mentioned, this book doesn't have very much text. So how can students make sure they're reading the entire time, especially if they have lower-level books with limited words on each page? Brainstorm student ideas and post them in the room.
Please add any lessons or supplemental materials to the book bag so future teachers can utilize your good thinking!
Comments and constructive feedback are always welcomed. Please let me know if these lessons were useful in your class!
###